Situational Awareness:

Respond to Flooding Emergencies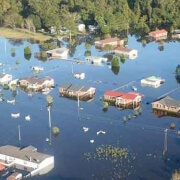 Enhanced situational awareness informs emergency management decisions and provides critical information to first responders. SensiFlood gives you localized real-time visibility of stage levels, inundation extents, rainfall, wind, and environmental conditions, and on-site cameras provide visibility of conditions on the ground. With SensiFlood nodes deployed in a dense network throughout your area of responsibility, you will be able to plan for and respond to flood emergencies in ways never before possible.
Real-time visibility of river and lake levels, local precipitation in all key locations.
Augment your monitoring capabilities far beyond typical USGS gage presence.
Cost-effective solution for significantly enhancing municipal emergency management preparedness and response.
SensiFlood Solution: Low-cost, rapidly deployable networked flood sensors can provide detailed data on water stage levels and inundation areas. User-defined automated alerts provide immediate customized text, email, and social media notification of dangerous conditions to response teams and the community.
Risk Mitigation:

Long-term Dam Monitoring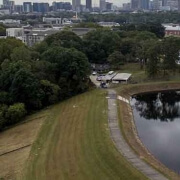 State agencies and private owners are faced with significant challenges in monitoring and maintaining dam structures. SensiFlood can provide real-time performance information to inform resource prioritization, alert of immediately dangerous conditions, and enable rapid response decisions.  Stakeholders are able to reduce financial costs and risks related to at-risk dam sites.
Provide detailed information and audit history of of dam conditions and performance
Monitor water level, flow rate, soil saturation, and other performance parameters in real time
Cameras provide visual confirmation without requiring on-site presence
SensiFlood Solution: Deploy detailed water height monitoring capabilities in multiple areas of at-risk sites augmented with spillway flow, soil saturation, or other environmental or structural monitoring instruments.  Additional sensors deployed in upstream reaches enable modelling of water level response to rainfall events. SensiFlood provides a reliable, cost effective system to address increasingly urgent dam infrastructure monitoring requirements.
Data-driven Planning:

Mitigating Coastal Flooding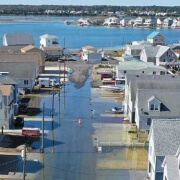 Sunny day tidal flooding is routinely causing disruption, property damage, and long-term displacement in coastal cities and serious environmental impact in coastal wetland and channel habitats.  Coastal resilience initiatives seek to protect life and property, safeguard people and infrastructure, strengthen the economy, and conserve coastal and marine resources. SensiFlood helps deliver vital environmental data required to effectively plan and implement these programs.
Provide detailed understanding of extent and frequency of flooding events by placing sensors in all areas of interest, enabling a data-driven approach to developing resilience plans.
Deploy ubiquitous networks with tens or hundreds of sensors which can be cost-effectively managed and maintained.
Alert public safety officials of flood conditions and road access disruptions in real-time.
SensiFlood Solution: hundreds of sensor locations can be deployed throughout cities under Coastal Resilience or Smart City initiatives.  The self-contained SensiFlood sensors are easily installed and require minimal maintenance. They are solar powered and use existing cellular or local LoRaWAN network infrastructure.  Remote coastal wetlands can be monitored, utilizing satellite telemetry in cases where cellular service is not reliable.  User-defined alerts enable real-time public safety response.  Cloud access provides detailed data for resilience analysis and planning.
Actionable Alerts:

Protecting Critical Facilities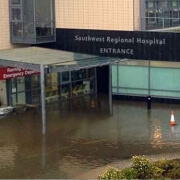 Communities have a vital common concern in protecting critical infrastructure from flood disasters. Public safety requires high levels of availability, reliability, and resilience in power distribution, water treatment and stormwater systems, airports, and hospital facilities.  SensiFlood provides actionable rainfall and water level data and automatically alerts facility managers to conditions requiring mitigation actions.
Response teams can monitor weather and water level conditions in real time, gauging response levels well in advance of emergency conditions.
Timely notifications enable facility managers to initiate evacuation, response, and mitigation measures when they will be most effective.
Active response such as barriers and gates can be triggered based upon multiple parameters
SensiFlood Solution: SensiFlood sensors can be deployed at multiple locations in and around a facility as well as in broader network deployment to monitor relevant local conditions.  The sensors integrate with existing communication infrastructure and link to on-premise monitoring and alarm systems.  In addition, the system can send an unlimited number customized active SMS, email, and social media alerts.
Real-time Response:

Detecting Dangerous Over-road Flooding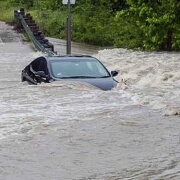 Water over roads from inundation and flash flooding poses a serious threat to the public.  Most deaths in flood events occur when vehicles are driven into flooded roads, and transportation departments and first responders cannot monitor the many potentially hazardous road locations.
Detect water presence, depth, and rate of rise, as well as providing camera images, of all potentially dangerous road flood locations.
Automatically trigger alert beacons, signs, or road closure gates
Send road segment closure information to commonly used mapping applications such as Waze.
SensiFlood Solution:  water presence detection and immersed or non-contact water level sensors integrated with real-time cameras that can be rapidly deployed and easily maintained.  The systems require no external power or communication and can be mounted to existing roadside infrastructure or in safe self-standing tower.  Water presence and level data are readily available as inputs to traffic warning systems, and the system can send an unlimited number customized active SMS, email, and social media alerts.
Rapidly Deployable Data Acquisition
: Densify Watershed Modeling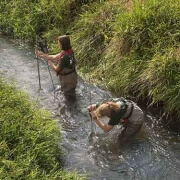 Sophisticated watershed and flood modelling methods are vital tools for environmental engineers and municipal managers, but developing and validating models requires accurate data inputs.  Models that require localized rainfall, soil moisture, and water level/flow data are too often relying on sparse public datasets.  SensiFlood bridges this gap, providing a cost-effective and flexible system for collecting and managing large environmental datasets.
Sensors can be deployed in dense arrays for localized studies and then moved to other GPS-tracked locations as required, allowing detailed studies of specific areas
Data is stored in highly reliable cloud infrastructure and can be accessed through standard query or integrated via secure programming API
The system can utilize any standard SDI-12 environmental instrumentation, providing flexibility to add any water quality or environmental data parameters to model inputs.
SensiFlood Solution: SensiFlood provides a flexible, self-contained environmental monitoring platform that can be easily configured and readily deployed to gather data for model development and validation.  Large datasets can be developed, managed, and accessed using standard cloud infrastructure.
SensiFlood Technical Specifications

Sensors
Stage (Water-Level)
Range: 6 m

Resolution: 1.0 mm resolution

Accuracy: 1.0 cm

Sampling rate: Adjustable, Max 1 sample/ second

Support up to 125 m cable connection to the wireless electronics

GPS
GNSS, 56 channels, up to 8.5 ft location accuracy
Air Pressure
Range: 50 to 115 kPa

Resolution: <1 Pa

Accuracy: ± 1 kPa

Air Temperature
Range: -40°C to 85°C

Resolution: <0.1°C

Accuracy:  ± 1°C

Still Image (Camera)
640 x 480 pixels

Frame rate: 1 per second

Lens: Fisheye, View angle: D:175° H:147° V:102°

Rain Gauge
Type: Tipping Bucket (RM Young 52202/52203 (or comparable, with N/O contact)

Catchment Area: 200 cm2

Resolution: 0.1 mm per tip (0.004" per tip)

Accuracy: 2% up to 25 mm/hour; 3% up to 50 mm/hour

Output: Normally Open Reed Relay

Temp Range:

52202:  -20°C to 50°C (rain gauge heater activated using external power)

52203:  0°C to 50°C

External Expansion
SDI-12

Analog I/V (software not released in Beta)

Communication
Cellular
LTE-M
Fallback Satellite
Iridium satellite SBD link
LoRaWAN
915MHz , Range up to 5miles
Mesh
2.4GHz power-optimized 6LowPAN, Range up to 5000ft
WiFi
Wireless link to field-support mobile device manager
Antenna
All Internal , Available external antenna option for cellular, Mesh, LoRa
Power
Solar
Solar, 10W panel: Avg. daily full charge less than 2 hours.

Full charge within a few hours in heavy overcast condition

Internal battery
10+ yrs. internal Li-Ion rechargeable 11.2AHr
No charge operation
Over 3 weeks with 12+ sensor samples per hour, Over 6 daily reports
External Power Option
12V plugin port (instead of solar) including rechargeable power-pack
Physical
Size
Electronic Node: 8.5″ L x 8.5″ W x 3.5″ H

Water-Level Sensor: 8.75" L x 2.4" Diameter

Weight
Electronic Node: 2.3 lbs (1004g)

Water-Level Sensor: 1.5 lbs. (680g) (not including cable)

Construction
Corrosion free, 10+ years outdoors
Mount
Electronics: Pole-mount, Wall, Bridge

Water Sensor:  Pole, Free standing, In-stream drop, Bridge

Environment
 
Enclosure
IP68 Dust tight, Water immersible, Corrosion Free
Operation Temperature
-40ºC to 85ºC
Moisture
Water Immersible
Vibrations/shock
4 feet drop on concrete
Memory
Data Buffer
700 sensor report uploads (up to 7,000 sensor readings)
Configuration & System
Configuration
Self-network configuration

Remote via cloud dashboard

Local via mobile field-service device

Command
2-way configuration

External digital control, Remote HALT Device Control

Data Processing
Internal at node, Cloud

Data processing

Filtering

Rule-based self-operation

Cloud server
AWS, 3rd party or stakeholder
Data Interoperability
ALERT2
Data report

3rd party sensor on-boarding

Field-Service Device
Device
Tablet, Phone with WiFi connect to EVX2000B-FSN
Software
Mobile config., calibration, and diagnostics
SensiFlood Default Parameters and Settings

Parameter
 Default Value
Unit
Valid Range
Sensor Mount Offset
0
inches
> 0
NAVD88 Offset
0
Inches
> 0
Water Density
1
gr/cm3
> 0
Remote Link Update Rate No-Flood Mode
30
minutes
5 – 720
Remote Link Update Rate Flood Mode
6
minutes
5 – 720
Stage Sensor Sampling Rate No-Flood Mode
120
seconds
15 – 3600
Stage Sensor Sampling Rate Flood Mode
15
seconds
15 – 3600
Air Pressure Sampling Rate
2
minutes
0.25 – 60
Temperature Sampling Rate
2
minutes
0.25 – 60
Battery Voltage Sampling Rate
2
minutes
0.25 – 60
AUX1 (SDI-12) Sampling Rate
45
minutes
> 15 (see note1)
AUX1 (SDI-12) Sampling Rate Flood Mode
45
minutes
> 15 (see note1)
AUX2 (voltage) Sampling Rate
45
minutes
> 15 (see note1)
AUX3 (current) Sampling Rate
45
minutes
> 15 (see note1)
Camera Sampling Rate No-Flood Mode
480
minutes
> 15
Camera Sampling Rate Flood Mode
15
minutes
> 15
GPS
On-demand
–
–
Flood Trigger Level
50
inches
 0 – 240
Flash Flood Trigger Level
5
Inches/second
0 – 16
Note 1: SDI-12 or other auxiliary external sensors may draw electrical power from the node to operate. Please check the power requirements prior to setting the sampling rate to allow sufficient solar charge and internal battery power or alternatively, use an external rechargeable power unit.

SensiFlood
Division of Evigia Systems LLC
1995 Highland Drive, Ste. D
Ann Arbor, MI 48108
734.302.1140
SensiFlood@evigia.io