SensiFlood Hardware
SensiFlood™ EVX2000B-FSN Flood Sensor is a self-contained system that can be rapidly deployed for autonomous environmental monitoring applications.  The system can be configured with a variety of sensor and communication options and requires no hard-wire power or network connections.
Water Level / Stage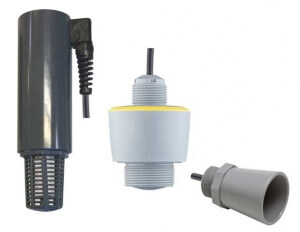 Immersible pressure transducer, RS-485 up to 125 m, 6 m range, 1 mm resolution
Non-contact Ultrasonic sensor, 5 m range, 1 mm resolution (optional)
Non-contact Radar sensor, 8 m range, 5 mm resolution (optional)
On-board Sensors & Ports
GPS coordinates: automatic or remote on-demand GPS coordinate updates
Barometric pressure: range: 50 – 115 kPa (15 – 34 in Hg)
Ambient Temperature: range -40 to 85 °C
Rain gauge: dedicated port for any NO contact-closure tipping bucket rain gauge
High resolution camera: dedicated port for day/night color camera (optional)
External sensor: dedicated port for voltage (0-5 V) or current (4-20 mA) sensor signal
SDI-12 sensor: dedicated SDI-12 port for interface to broad range of environmental sensors
Actuator: dry-contact closure for actuating external hardware such as signs or gates
Communications / Telemetry
Cellular: LTE-M AT&T, Verizon, MVNO
Fallback satellite: Iridium satellite SBD link
LoRaWAN: 915MHz, range up to 5 miles
Mesh: 2.4GHz power-optimized 6Low PAN, range up to 5000′
WiFi: on-board wireless link to field-support Mobile Device Manager for setup and calibration
Antenna: all internal, optional external antenna for cellular, Mesh, LoRa
Power Capacity & Options
Internal battery: 10+ yrs. internal Li-Ion rechargeable 11.2AHr
Solar: 10W, 22V solar panel, full charge < 2 hrs
No-charge operation: Over 3 weeks operation with 12 samples per hour, 6 reports per day
Battery health monitor: remote monitor of battery Voltage, state-of-charge, and charge/discharge rate
External power option: 12V plugin port accommodates externally supplied power or rechargeable power pack
SensiFlood Web / Mobile Dashboard Software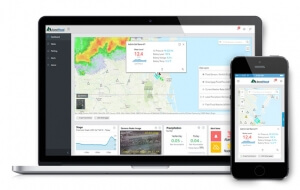 The SensiFlood™ EVX2000B-FSN Flood Sensor Network system includes a web and mobile Dashboard that enables you to monitor and manage the devices on your SensiFlood network, query and analyze all of the time-series sensor data from cloud storage, view camera images, generate data plots and tables, view and query USGS gage data, display NWS weather radar and precipitation, manage rule-based alerts, and directly download data for use in other applications.
Data Query and Visualization
Dashboard View
All sensors are shown on interactive 3D map with color-coded icons, multiple map layers and data overlays
Easy to use navigation, at-a-glance data for each sensor site
Unlimited number of user-defined widgets for quick reference to sensor data, camera images, latest weather and precipitation forecast
Overlay USGS gage sites, NWS weather radar and precipitation data on map
Data Analytics
Generate data plots for any number of sensor sites, export plot images with a single click
Easy to use interface for defining plot parameters and time range
Interactive plots allow easy time scale and min/max axis setting
Data tables allow view and CSV export of unlimited datasets
SensiFlood Rules Engine
Set alerts based on any sensor parameter from multiple sensor sites
Easy to use interface to define rule conditions and alert lists
Send alerts via text (SMS) or email to multiple recipients, or use webhooks to connect to other applications
Alerts can automatically trigger real-world hardware devices such as signs and gates
Alerts are repeated as specified by the user as long as the alert condition exists
Alert cancellation notice automatically sent when alert conditions are resolved
Network and Device Management
Device Setup and Configuration
An easy to use Device List enables management of hundreds of network devices
Device configuration can be set remotely: sampling rates, upload rate, flash flood trigger level and rate-of-rise
Water level offsets for installation height and NAVD88 offset
USGS gage data is on-boarded, allowing integrated query and visualization within the Dashboard
External sensor configuration and sampling rate can be remotely set
Security and Software Deployment
No IT Resources Required
No on-site software to install or manage, no special network ports required
Secure user login with defined administrative privileges
All data resides in secure Amazon Web Service cloud database
Dashboard runs in secure, encrypted (TLS) data transmission mode on the internet
Software updates are automatically rolled out, so users always have the latest features available
SensiFlood Device Management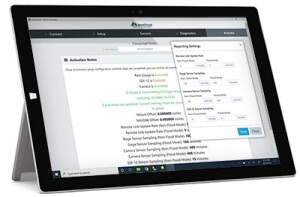 The SensiFlood™ EVX2000B-FSN Flood Sensor Network system includes a Mobile Device Manager Tablet App that enables you to configure and calibrate the system prior to installation or while on-site in the field location.  The Device Manager connects to one or more SensiFlood hardware nodes via secure WiFi. Your devices can be completely configured, validated, and begin transmitting data in minutes.
System Setup & Configuration
Connect and Setup
Easy to use WiFi connection to multiple SensiFlood nodes for pre-installation configuration
Set up and activate all on-board and external sensors (rain gauge, SDI-12, camera)
Configure sampling rate for all sensors as well as reporting (upload) schedule
Define "Flood Mode" parameters to trigger increased sensing and reporting updates during flood events
Define mounting offset height for sensor as well as NAVD88 offset to coordinate water stage readings to datum
Initiate GPS coordinate reading or manually set coordinates for devices to know field locations
Configure sampling rate for all sensors as well as reporting (upload) schedule
Water Level and Remote Sensor Calibration
Easy to use step-by-step setup for calibrating immersible pressure transducer
Manually set water density to accommodate for silty or brackish water
Confirm rain gauge function
View all sensor readings in real-time
Device Diagnostics, Confirmation, & Activation
View diagnostic information directly from node operating system
View and export detailed performance log information
Simple checklist format confirmation screen, shows configuration and sensor data readings at a glance
Confirm device activation and data upload status
SensiFlood Cloud
The SensiFlood™ EVX2000B-FSN Flood Sensor Network system stores all configuration and calibration information as well as all sensor data readings in a secure cloud database.  SensiFlood's cloud infrastructure is built on the Amazon Web Services platform, providing processor and storage resources in the most secure and reliable cloud system available.
Configuration and Calibration
Secure Storage and Synchronization
User-defined settings and device parameters are maintained in the cloud
Calibration data can be updated remotely for any device
Device parameters are automatically synchronized from the cloud to the device
All Alert Engine parameters and SMS/email/webhook links are maintained and managed in the cloud
Storage and Access of Historical Data
All historical sensor data is maintained in a powerful time-series database hosted on AWS
Data can be queried by the SensiFlood Dashboard for interactive use and download
Database is secure and automatically backed up
Integrate Data in Your Own Tools
Powerful query language script allows programs to access data
ALERT2 translation can be configured to source data to hosted systems via ALERT2 ASCII protocol
Configure webhooks to provide data for road closures, updates to group tools (Slack), or integration to social media
Queries can be set up in spreadsheets for automated data access, streamlining your workflows